Grateful Dead Lyrics & Chords Database-Jerry Garcia Lyrics & Chords-Grateful Ramblings brings you this Grateful Dead Lyrics & Chords in the hope that other musicians will carry on the Grateful Dead music and that these pages will serve as a complimentary database for all lyrical & musical pursuits. This site was first developed in spring of 1997as a pure labor of love. We now get between 300-500 visitors per day. Thanks for visiting!! Please enjoy!
We now live on the Big Island Of Hawaii where Jerry Garcia spent his free time scuba diving and relaxing in the beautiful waters here.
Please help us keep this site alive by visiting our da kine sponsor below.
Be sure to check out our Grateful Dead stories area, our CD-R trading list, sign our guestbook, take a look at the Grateful Dead quilt, fill out the Grateful Dead poll, and lots more-just scroll down!!
" Once in a while you get shown the light-in the
strangest of places if you look at it right!




Waterfalls, Rainbows, Sunsets, Hawaiian Music
Beaches, & More



Grateful Dead Information Area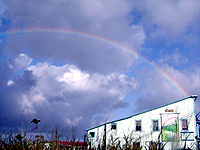 Rainbows over Hawi on da Big Island
See more cool pictures of Big Island Hawaii at
www.affordablehawaii.org